In this article, you will find the Best Kodi builds for streaming movies, TV shows, and live sports. We are updating this list on regular basis so you know which build work well for your specific needs.
Over the past several years, Kodi has established itself as an open-source media player for a wide range of devices. In recent times, regular users are rapidly adapting to Kodi because of its video-streaming capabilities and extension support. These extensions are called 'add-ons,' which runs like standalone apps over the Kodi system framework.
Kodi does allow users to install third-party add-ons, which opens a whole world of possibilities for watching subscription-free content. However, installing third-party Kodi add-ons is a complex process and soon becomes irritating to those who don't have much time to spare. A Kodi build solves that problem.
In this article, we will showcase the best Kodi builds you can install to watch on-demand movies and TV shows. You will find the repository URL under each of the builds mentioned in this list.
Kodi Foundation released the latest version of Kodi called Kodi 18.7 Leia and now users are looking for top working Kodi 18.7 builds so as a result, we have compiled a list of best Kodi builds that works on Kodi 18 Leia as well 17.6 Krypton. 
What is Kodi Build?
Before you go through the list of best Kodi builds, it is necessary to understand what a Kodi build actually is.
A Kodi build is an all-in-one package that is distributed via wizards (setup managers) and repositories. It contains several useful add-ons and a theme that entirely redesign the default text-based Kodi interface.
Kodi builds are very popular among experienced Kodi users as it takes less time to install and set-up compared to installing one add-on at a time.
Best Kodi Builds (2020)
The Kodi Builds helps users to obtain whatever they want via Kodi. When you use build then you can set up everything such as add-ons, settings, skins, electronic program guide and much more on your choice. All the things you installed will run just within one click. Check below the list of top-rated best Kodi builds.
These builds also work for firestick, Fire TV, Firestick 4k, Android TV Box, Android Mobile, Windows and MAC computers & older versions of Kodi.
Alert Kodi Users

– Read before you continue
Most of the Kodi Addons/Builds, developed by third-party developers, will give you unrestricted access to a lot of movies and TV shows. However, you must be cautious while using Kodi Addons and safeguard your identity. There's always a risk of being monitored or tracked by Internet Service Provider (ISP) and government. Usage of Kodi Addons and builds for streaming copyrighted content might land you in trouble. Therefore, it's recommended to use a reliable VPN app for safety reasons.
Using a VPN connection will also help you in bypassing geo-based restrictions. We recommend our readers to use IPVanish VPN while streaming. IPVanish VPN cleverly hides your identity by masking your IP address. Additionally, it comes with a 7-day money-back guarantee, you can raise a refund request in case if you're not happy with the service. Click Here for IPVanish VPN @ 69% Off
Titanium Build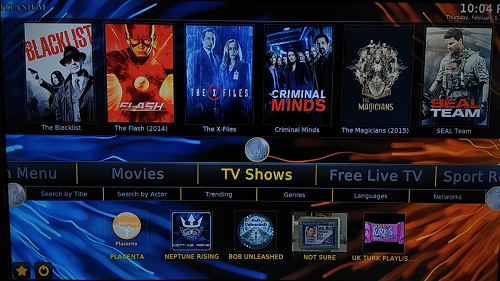 Titanium Build is one of the most popular Kodi builds that helps you to stream various media content such as Movies, Live TV, Live Sports, Sports Replays and many more.
Titanium Build is packed with some of the most popular video-streaming add-ons, such as DeathStar, SportsDevil, Yoda, Gaia Rising Tide, and more. You can expect to find your favorite movies and TV shows in up to 4K resolution. You can also watch live TV and sports channels, including the popular ones from the US, Canada, and the UK.
Titanium's user interface is also very simple in terms of content accessibility and navigation. It looks modern and puts everything under a single line of categories.
The Titanium build also integrates the SB Wizard, which gives you access to several Kodi maintenance tools and downloadable add-ons.
Titanium build works with both Kodi Krypton and Leia. You can install it from Supreme Builds Wizard, which is available on the Supreme Builds Repository. It also works well with Kodi 18.7 & Krypton.
Check here – How to Install Titanium Build on Kodi
No Limits Magic Build
When comes to the No Limits Magic Build then you can able to obtain numerous things specifically for the online streaming. Amongst several numbers of builds for Kodi, it is the best build for Kodi that helps you in many ways.
The No Limits Magic build offers a massive content library of movies, TV shows, documentaries, and exclusive sports events for free. It also offers popular live TV channels thanks to the live TV add-ons it integrates.
A few of the add-ons include The Magic Dragon, SportsDevil, 7of9, Deja Vu, Death from Above, cCloud TV, Pulse Fitness, and more. You can watch content in up to 4K HDR quality. You can also link Real-Debrid during the setup process.
For the user interface, it uses the Aeon Nox 5: Silvo, one of the best Kodi themes of all time. It not only revamps the boring Kodi interface but also adds up for overall simplified user experience.
The developers are actively adding more features and patching out bugs with regular updates. You can install the build on Kodi 18.7 Leia or any older versions. It is available on the No Limits Wizard
How to Install No Limits Magic Build On Kodi
Maze Kodi Build
The Maze Kodi Build is known for its lightweight nature (~100 MB) and simple user interface. In spite of that, it packs a massive number of video streaming add-ons. It includes Exodus Redux, DeathStar, The Magic Dragon, and many more.
With Maze, you get to enjoy Live TV, movies, TV series, sports, fitness, music content. Both on-demand streaming and live TV works flawlessly. The video quality maxes out at 1080p and it looks decent. On the other hand, live TV barely manages to hit 720p resolution in most cases.
You can also toggle between adult and family-friendly filters to include or exclude adult content from the suggestions. This is a powerful tool especially when you have children on the TV.
The build is well-maintained and receives regular updates. You can install the Maze build on Kodi from the Maze Wizard. As previously mentioned, it is very lightweight compared to other Kodi builds while still managing to retain all the core functionality. It is suitable for low-end streaming devices with less memory on-board.
How to Install Maze Build on Kodi
Blue Magic Build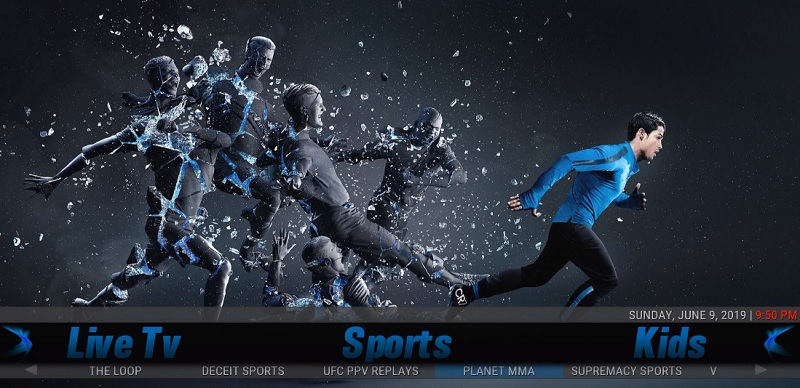 Blue Magic Kodi build has gained quite a reputation recently because of its flexibility in terms of features and user interface. Not every Kodi builds out there work out as good as the Blue Magic build.
It comes with some of the most popular add-ons such as Magic Dragon, DeathStar, cCloud TV, Yoda, Seren, Sports Classic, UK Turk's, etc. This gives you access to the latest movies, TV shows, web series, documentaries, sports and popular live TV channels from a single place. The stream quality is respectable with the options between 720p or 1080p. Though you should not expect too much from the live TV options.
The user interface is also great. All the content is appropriately organized into different groups: Sports, Kids, Movies, TV shows, and Live TV. Simply highlight any of these options to get recommended suggestions.
You can install this build from the Luxury Build Wizard, and it is compatible with both Kodi v17.6 Krypton and Kodi v18.0 Leia.
How to Install Blue Magic Build on Kodi
Xontech Build
Xontech build is another great Kodi 18.7 Leia build. If you have a 4K streaming device like an NVIDIA Shield or Amazon Firestick 4K Edition, then the Xontech Kodi build is probably one of the best options for you. At an enormous size of 340 MB, it compromises nothing but adds extra features to help you tweak your TV viewing experience.
It integrates a vast number of third-party video streaming add-ons, including Sports Classic, , cCloud, Deceit, Limitless, Destiny, Unhinged, magic dragon, IT, and dozens more.
The Xontech Build offers users the latest movies and exclusive web series in 4K Ultra HD quality, even 3D for a few ones. You will also find live TV option with a decent number of popular channels, which is actually comparable to an average IPTV service.
The user interface has a simple layout consisting of menus and submenus, though I personally don't find the UI design eye-catching. Other than that, the font and icons are easily legible. You can either choose to search content or filter your preference by genre, year and people.
Note that the Xontech Kodi builds only support Kodi v18.0 or later. You can grab it from the Falcon Builds Wizard. I recommended you update your Kodi to the latest version because xontech is one of the best Kodi 18.7 Builds I ever used.
Source URL – http://teamfalcon.exposed/wizard
Pink Build
The Pink Kodi build is actually another fork from the EzzerMacs Wizard we just talked about. As the name suggests, it basically has all the features and add-ons of the EzzerMacs build, but in a slightly aesthetic neon-pink themed user interface.
There are some extra add-ons you will find in the Pink Kodi build. These are Chains of Absolution, Luxray Prime, FDJ.HD, Ghost, Maverick TV, M-E-T-V, Titan, The Crew, Deceit, Sports Streams, The Endzone, and more.
Overall the user experience will vary depending on the user's preference. The recommendations pop-up as soon as you highlight a category, and playback seems pretty snappy.
There are options for linking your Trakt and Real Debrid account in the wizard in case you need it.
How to Install Pink Build on Kodi
Xanax Build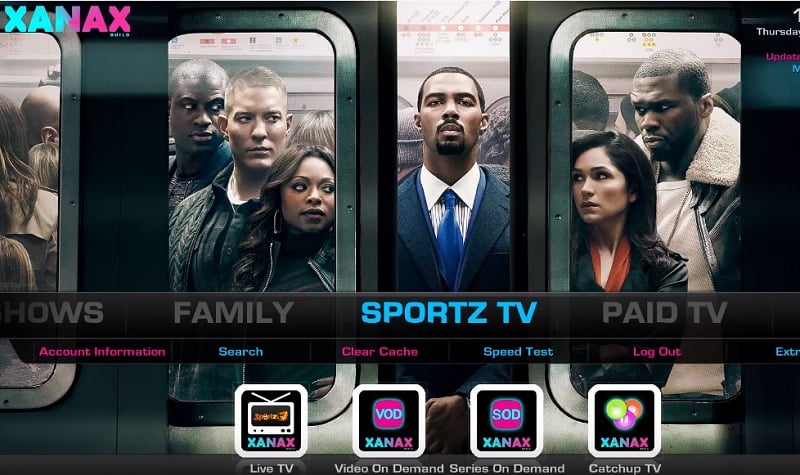 If you have been using Kodi for long, then you ought to know about the Durex Build. Unfortunately, it is no more functional. However, the same developer has released another build called Xanax. Xanax is quite a capable alternative as well.
Xanax is a replacement for the original Durex build, and shares the same UI design. It comes with the DeathStar, Exodus Redux, and more video add-ons that add up to a solid content collection. It also has the Aptoide for Kodi add-on.
The Xanax build gets regular updates, unlike the discontinued Durex build.
An elegant user-interface makes Xanax the ideal build for Kodi. It is similar to Durex in terms of layout and design.
How to Install Xanax Kodi Build
Racoon City Build
Racoon City builds are found on the Racoon City Wizard, available for both Kodi Krypton and Leia. All of them contain several famous add-ons like Yoda, SportsDevil, Planet MMA, Loki, At the Flix,  and more.
Racoon City builds offer plenty of streaming options for movies, TV shows, and sports content. All of the builds share the same home screen layout with a couple of tweaks here and there.
At the time of this writing, there are eight Racoon City builds found in the wizard. These are Resident Evil, Star Trekkin, Cyborgs, Pirates, Supernova, and BoomBox. If you are running out of storage on your streaming devices, then go for the Pirates build because of its smaller size
How to Install Racoon City Build
Hard Nox Build
Hard Nox is another Kodi build from the Misfits Mods Wizard. It has a robust collection of add-ons that includes Exodus Redux, 13Clowns, Watch Dogs, The Magic Dragon, Loki, Seren, Supremacy Sports, Rising Tides, and more.
The home screen is similar to what you find on the No Limits Magic build, except the color scheme and background choices. It offers a respectable selection of movies and TV shows, with a few live TV channels.
Hard Nox build can be installed on both Kodi Krypton and Leia.
Source URL: http://misfitmods.com/mmwiz/repo/
Doomzday Build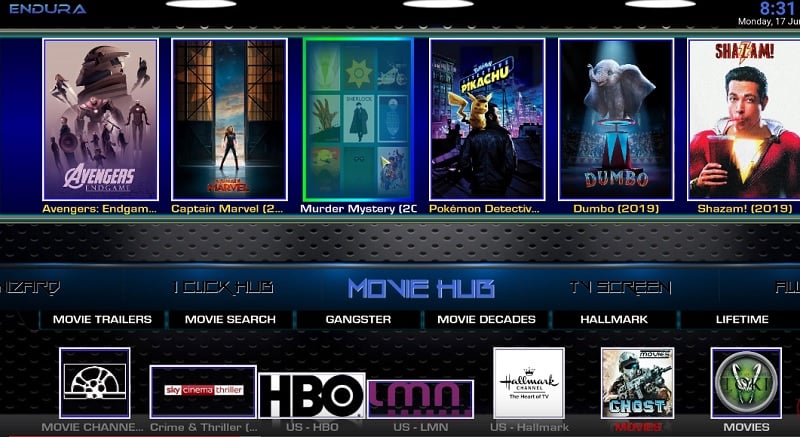 The Doomzday build comes in different flavors for different types of users. Depending on your streaming device's capabilities, you can either opt for the full build or the lightweight one with limited features. The Doomzday builds are available on the Doomzday Build Wizard and compatible with both Kodi Krypton and Kodi Leia.
Here are a few add-ons you will find in the Doomzday build: Gaia, Seren, The USS Defiant, Deceit, Venom, and SportsDevil. You get access to a massive library of movies, TV shows, documentaries, sports, and music content, appropriate for both adults and kids.
Upon installing the Doomzday build, you will be greeted by a stylish UI that contains multiple categories, including Movie Hub, TV Show Hub, 1Click Hub, RD/4K Hub, Sports Hub, Music Hub, and Kids Hub. Each of the categories is broken down in multiple sub-categories, to help you tune your preferences. In short, it is another good working build for Kodi.
How to Install Doomzday Kodi Build
Streamline Build
The Streamline build is a worthy mention in this list thanks to its snappy and user-friendly interface. It is exclusively available for Kodi Leia and offers HQ on-demand and live content for free. Here are a couple of add-ons that come preinstalled with the Streamline build: Deceit, The Magic Dragon, FEN, Yoda, SportsDevil, Jor-El, Exodus Redux.
The Streamline build runs great on both low and high-end devices because of its light CPU usage and memory optimizations. The neatly organized card-based interface further improves the user experience. Although it is less fancy compared to other builds on this list, the backdrops look great on a big screen.
The build is supported on Kodi v17.6 Krypton as well as the latest v18.7 Leia. You can easily install the Streamline build on Kodi from the Whiz Kid Wizard.
URL – http://whizkid.one/wizard/
Diggz Xenon Build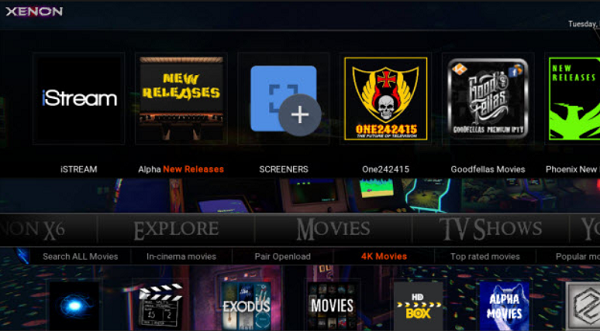 Diggz Xenon build is pretty small in size and works great on low-end Android streaming boxes. It offers as much content as the Titanium and No Limits Magic build due to its decent set of add-ons. You can enjoy different genres of movies and TV shows at up to Ultra HD resolution. It offers 3D movies as well in case you have a television with 3D-capabilities.
The build integrates add-ons like cCloud TV, IT, The Crew, Venom, Loki, The Magic Dragon, TempTV, Movie Portal, Unhinged, and more. All of them fetch good-quality streamable links and are enough for most users.
The Diggz Xenon build also has a modern user interface, which puts categories and subcategories in the middle of the screen. The add-ons are also accessible below the home screen. On top of the categories, you receive suggestions based on your viewing activities.
The Xenon category contains all the maintenance tools you need. The build also has a separate Sports section, from where you get access to several live sports events and highlights.
Diggz Xenon is only available for Kodi Leia as of now. It can be installed from The Chef Wizard, which you can download and install from the Diggz Repository.
How to Install Xenon build On Kodi
Grindhouse
Just like the Racoon City and DaButcher builds, the Grindhouse builds have entered the arena of best Kodi builds. Blue Lite, Witcher, Horror18, Batman18, TrueBlood are some of the best builds for Kodi Krypton and Leia. All of them are available from the Grindhouse Wizard.
The user-interface is par excellence and the developers are doing a good job keeping them constantly updated. The build contains different addons that can be used to stream movies, TV Shows, and other PPVs.
Here are a couple of video add-ons used by the Grindhouse builds: The Magic Dragon, The Red Queen, Numbers, Yoda, Jor-El, and Cartoon Network. As you may have already noticed, some of these add-ons have appeared many times now in different builds. You can expect a decent viewing experience with the Grindhouse builds.
The user interface of the Grindhouse builds are pretty uninspiring, so there's nothing much to discuss. However, these builds are lightweight and work smoothly across all types of hardware.
How to Install Grindhouse Kodi Builds
DuffLight Build
DuffLight is a barebones Kodi build with minimal features. However, it does pack a slew of video add-ons, such as Incursion, Kratos, Deceit, Numbers, Exodus Redux, Startec AIO, etc.
You can select to watch your usual movies, TV shows, live TV, sports, and kids' content directly from the home screen. There aren't many features to talk about, but it does have a quick shortcut to the Real-Debrid authorization menu. The build also comes with Stream Digital Wizard pre-installed, which gives you access to Kodi's maintenance tools, builds, themes, and add-ons.
The interface has been specifically designed to be used with remote controllers, but it works fine with touch and mouse controls. The categories are stacked below the screen, giving it an overall clean look. It is downloadable from the Stream Digital Wizard.
URL – http://streamdigital.org/wiz/
Misfit Mods Lite Build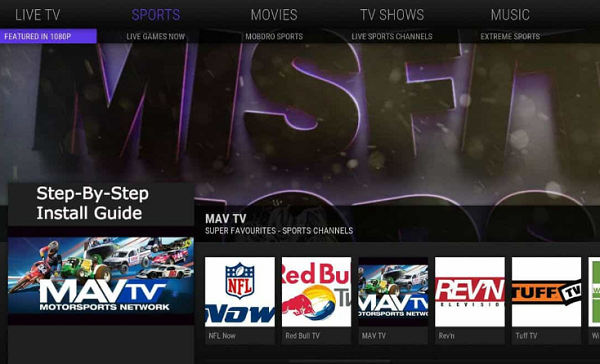 As the name implies, the Misfits Mods Lite is a lightweight build that provides live TV, movies, TV shows, music, and a sizeable collection of sports and kids content.
It has video and live TV add-ons like Neptune Rising, Placenta, StreamHub, Wolfpack, SpinzFlix, Mobdro, USTVNow, FilmON, SportsDevil, MP3 Streams to take care of the content library. The quality goes up to 1080p without breaking a sweat.
Even though the Misfits Mods Lite is smaller in size compared to other builds in this list, it somehow manages to make up for a great user interface. The categories are found at the top of the home screen, and you can scroll through different content from the middle. It is not cluttered and visually pleasing to the eyes.
Unfortunately, Kodi Krypton users won't get to experience it, as it is only available for Kodi Leia 18. Leia users can install the Misfits Mods Lite from the wizard with the same name. The wizard can be installed from the Misfit Mods Repository.
How to Install Misfit Mods Lite Build on Kodi
DaButcher Kodi Build
DaOnly Wizard gives users access to a collection of DaButcher Kodi builds, which has recently become quite popular due to its compatibility with Kodi running on low-end hardware. It has almost the same set of third-party video add-ons as the Racoon City builds, which comprises DeathStar, Deceit, SportsDevil, Canvas, YouTube, and Exodus Redux.
Some of the popular DaButcher builds for Kodi are DaLight, DaX18, and Robo Red. The DaLight build is especially unique with its collection of pre-added repositories to let users install their preferred third-party add-ons. If you use Kodi Krypton, then you can try out the DaX17 and Plain 17 builds from DaButcher.
Source URL: http://dabutcher.org/repo
CellarDoor TV Build
Although it got released recently, CellarDoor TV has been on the rise for quite some time. Some of the contributing factors have been the size of the build and the ease of use. It works well with nearly all the Kodi devices.
CellardoorTV builds are popular for its amazing UI design and smoothness. The CellardoorTV Wizard not only hosts its own builds but also a couple of community-made builds as well.
If you are on Kodi Krypton, then the Infusion, Dominus, and Sonar builds are for you. Leia users should go for the CDTV build. All of them include notable video and live TV add-ons like Phoenix, Exodus Redux, Seren, and dozens more.
URL – http://cellardoortv.com/repo
EzzerMacs Build
EzzerMacs Kodi build takes a somewhat simplified approach in respect of the user interface and add-ons. Here you will find 10+ popular third-party Kodi add-ons such as Arrakis, Dreadnought, At the Flix, Rising Tides, Tsunami OF, Man Cave, SportsDevil, and a few more. Similar to other Kodi builds on the list, you will find most of your favorite content here.
The EzzerMacs Wizard lets you select a themed build of your choice, but all of them comprises of a dull and infuriating user interface. It will cost you some time and patience to understand every aspect of the UI, but other than that it has almost all the features you expect from a Kodi build.
What makes it a little bit confusing is the naming scheme EzzersMacs use to differentiate between their build wizards. As of now, it has two versions: EzzerMac and EzzerMacs. Make sure you get the EzzerMac wizard, as it uses an intuitive graphical interface for the installation setup. The build supports both Kodi v17.6 and v18 versions.
URL – http://ezzer-mac.com/repo
BK Links
This build is not the smallest one you will find. It contains lots of features and addons as a result. Due to its size, it might not function on the less capable devices. You would need Kodi Boxes like the Nvidia Shield.
The addons available include Nemesis, Maverick TV, Death Streams, Placenta, Planet MMA, Supremacy, The Dogs Bollocks, etc. The addons offer support for 4k streaming, sports events, etc. The layout and design are impressive as well. I have tried this build on my Kodi and firestick device
URL – http://streamdigital.org/wiz/
Innovation Kodi Builds
Presently, this wizard is offering two different builds-Innovation Colors Adult and Innovation Colors Family. Both of them do not lack anything when it comes to streaming features. You might be amused to know that the Adult Version comes with categories for 18+ content.
The builds are not huge in size and are supported on a wide range of devices. Some of the supported addons include Numbers, The Magic Dragon, Deceit, Loki, etc. The user-interface is another plus point, You can also view the trending content as well.
URL – https://kepler-22.github.io
Best Way to Use Kodi Builds in a Secure way
Before Streaming through Kodi, Make sure you use a VPN. Your ISP (Internet Service Provider) and the government are tracking all your Internet Activity. If found streaming copyrighted & illegal content on your Kodi, you could get into serious trouble. Many people have received Legal notice for violating the law.
If you are planning to stream content via any of the Kodi addons or Kodi builds, I strongly recommend to Use IPVanish VPN and hide your identity to stay anonymously. I personally use IPVanish VPN to protect my online privacy and it also helps me unblock geo-restricted content.
Conclusion
This article contains our picks for the best Kodi builds you can currently install. Most of the builds listed here allocate less than 200MB of storage space, which is suitable for entry-level streaming devices with ~4GB free storage. You can stream your favorite movies and TV shows for free using the Kodi builds.
We neither promote nor host the third-party add-ons, builds, and repositories in this article. The legal ramifications of third-party streaming services remain in the gray area for many people, so users are advised to proceed at their own risk and discretion.